Unlocking Pubs' Potential Report
Inquiry, evidence and report
The All Party Parliamentary Beer Group (APPBG)'s inquiry into the future potential of pubs ran through the summer and autumn of 2019. Businesses, organisations and individuals with an interest in the potential of this vital part of the UK were invited to submit evidence. More than 20 organisations responded and 14 witnesses gave evidence in person.
APPBG Chair Mike Wood MP (Con, Dudley South) co-chaired the inquiry with the Beer Group Vice Chair Ruth Smeeth (then Lab MP, Stoke-on-Trent North).
Programme
Evidence sessions were held on:
Wednesday 19 June, 4-6pm: Polly Mackenzie, Demos; Peter Martin, CGA/Peach; Dr Thomas Thurnell-Read, Loughborough University; Martin Wilby, Norfolk County Council; Katie Bland, Bird in Bush, Elsdon; Sacha Lord, Manchester night time economy adviser.
Tuesday 25 June, 5-7pm: Katy Moses, KAM Media; Suzanne Baker, Stonegate; Mandy McNeil, Save St Albans Pubs; Tanya Williams, BII licensee of the year.
Tuesday 2 July, 3-5pm: Pete Brown, Guild of Beer Writers; Adrian Cooper, Oxford Economics; Ellen Huspith, Camra; Kris Gumbrell, Brewhouse and Kitchen.
On 3rd October the panel visited three pubs in the Stoke area:
Golden Lion, Newcastle, ST5 1PS (Jim Fisher, area manager and Anthony Hughes, general manager)
Bod, Trentham, ST4 8GG (Keith Bott & Andy Slee, Titanic and Stephen Gould, Everards)
Plume of Feathers, Barlaston ST12 9DH (Richard Slingsby, Neil Morrissey Pub Company; Andy Wilkinson, Punch)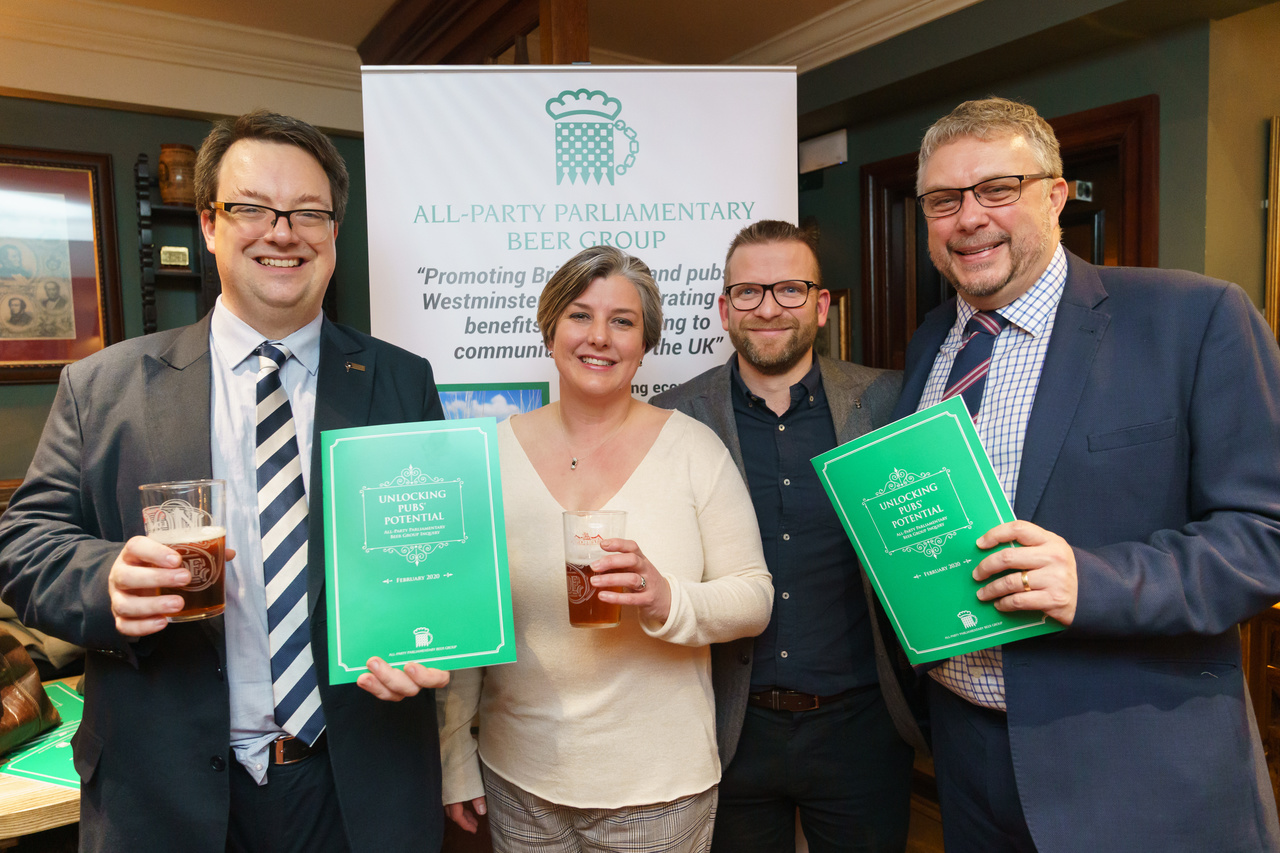 Mike Wood MP (Con, Dudley South ) and Steve Double MP (Con, St Austell & Newquay) at the report launch with inquiry witnesses Tanya and Alex Williams.
The report can be downloaded
here.
Written evidence was received from widespread individuals, organisations and businesses, focusing on:
the contribution made by pubs to their local communities, local economies and local wellbeing;

the changing competitive environment in which pubs operate; and

opportunities to boost pubs' potential through tax and regulatory change.

The following individuals and organisations submitted evidence:
Mike Hayes, The California Inn, South Devon
Kenneth Wright, Managing Director Phoenix Artist Club, London
John Ellis, D.M.S., M.B.I.I. Crown Inn, Oakengates
David P Woodhead MBII Ex publican
Paul French. FBII. Licensee of Broadway's Public House,
Dave Cullen, Freehouse tenant, Half moon and seven stars Canterbury
Phoenix, Swan Kingswinford
Anthony Hughes, Lincoln Green Brewing Company
Keith Knowles, Beds and Bars
Molson Coors
Heineken
BII
Greene King

EI Group
UK Hospitality
Pub is the Hub
BBPA
Report from the London Night Time Commission
PubAid report "Pubs and Sport"
Anthony Miller, White Swan
Robert Humphreys
Brewing Green: BBPA 2019
PubAid